Wildlife Artist Randy McGovern on
painting waterfowl as subject matter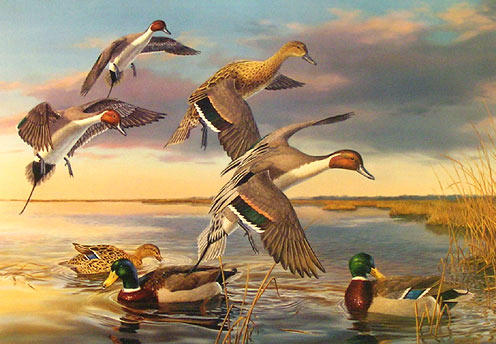 "There Goes the Neighborhood" by wildlife artist Randy McGovern
I love ducks! They are my favorite thing to paint. They're both cute and complex. They're both colorful and intricate. The ultimate detail challenge is painting vermiculation (the tiny squiggly lines on the side pockets of ducks). I also love the timeless mystique that adorns duck hunting, the cold, dreary weather, the wet dog, the duck calls, decoys, etc.
To order limited edition waterfowl prints by wildlife artist Randy McGovern, please call us now!

Limited edition fish prints by artist Randy McGovern

Call for FREE catalog of limited edition wildlife art prints by wildlife artist Randy McGovern!
Waterfowl Art | Wildlife Art Prints | Deer Prints | Bird Prints | Dog Prints | Cat Prints
Horse Prints | Nautical Art | Freshwater Fish Prints | Saltwater Fish Prints | Landscapes
Wildlife Artist Randy McGovern
5482 Brookstone Drive
Acworth, Georgia 30101
Phone: 770-424-0450
Fax Line: 770-425-5622 · Hours: 9AM - 9PM EDT
E-mail: Randy@McGovernWildlife.com

|

|

|

|

Design by: Award Winning Web Site Designs


| Home | Contact Us | Artist Biography | Gallery | Framing | Calendar | Art Licensing | Links
All Content Copyright © 1983-2019 by McGovern Wildlife Art Collection. All Rights Reserved.