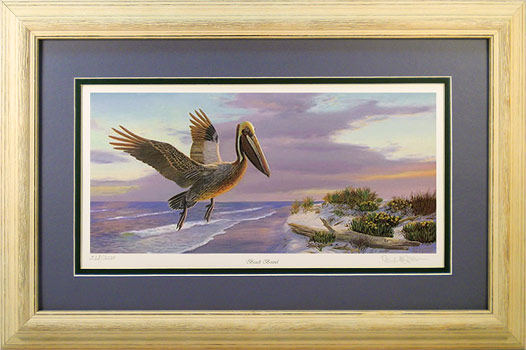 "Beach Bound" - Brown Pelican print
by Wildlife Artist Randy McGovern
This brown pelican is calling it quits after a hard day's work.
Perfect for displaying in your office, hunting cabin or anywhere in your home!
3200 Signed & Numbered Prints
Image Size: 6 3/8" x 13 1/2"
Frame Size: 13 1/2" x 20 1/2"
This print contains 5 hidden wildlife images in the background!
Item Description

Price

Order

"Beach Bound" - Brown Pelican - Signed & Numbered Edition Print - Unframed
$20.00
"Beach Bound" - Brown Pelican - Signed & Numbered Edition Print - Framed
$59.00






Please Allow 1-2 Weeks For Delivery.
(Please call if you may need it sooner!)
We can ship framed print orders same day - no extra charge!
Additional shipping charge for any order out of the USA is required.
To avoid overseas shipping delay, please contact us before ordering.

Call for a free catalog of all wildlife art prints by fish and wildlife artist Randy McGovern.
Order NOW! This Limited Edition could be Sold Out at ANY time!
Wildlife Artist Randy McGovern
5482 Brookstone Drive
Acworth, Georgia 30101
Phone: 770-424-0450
Fax Line: 770-425-5622 · Hours: 9AM - 9PM EDT
E-mail: Randy@McGovernWildlife.com
Design created by: Award Winning Web Site Designs


| Home | Contact Us | Artist Biography | Gallery | Framing | Calendar | Art Licensing | Links
All Content Copyright © 1983-2019 by McGovern Wildlife Art Collection. All Rights Reserved.