Exquisitely Framed Original Oil Paintings
by famous wildlife artist Randy McGovern
Welcome to the online gallery of original oil paintings by famous wildlife artist Randy McGovern. A fairly large painting can take 4 to 7 weeks at a rate of 10 hours a day. The beauty, mastery, and work that are evident in each painting help to define their value. Randy's originals are unique because of his smooth canvas technique allowing him to execute painstaking detail in depicting fins, feathers, pine needles, leaves, hidden creatures, etc. All paintings are uniquely and exquisitely framed in handmade frames comprised of suede leather, actual barnwood, and fine furniture molding. Perfect for wildlife, they are both rustic and dressy. You may purchase a painting a without the frame at a reduced cost of $150 to $300 depending on the size. If you are interested in an original oil painting or would like to visit our studio please call the studio and view a painting in person please call the studio at 1-800-226-2531 or Randy's cell at 770-598-4090.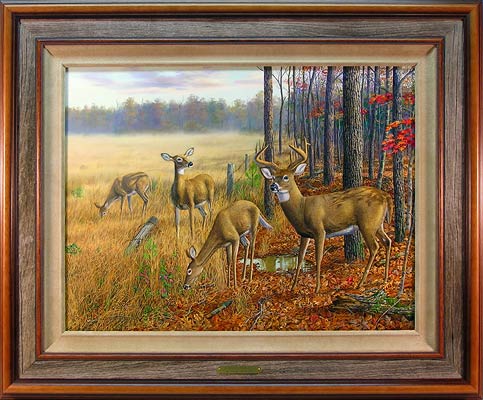 "A Brand New Day" - Whitetail Deer
(12 hidden wildlife animals)
Canvas Size: 18" x 24"
Frame Size: 26.75" x 32.75"
Framed Original Price: $7,000
Limited Edition Wildlife PrintAvailable

To commission an original wildlife oil painting or portrait
by Randy McGovern - Please CALL 1-800-226-2531

Limited edition fish prints by artist Randy McGovern
Call for FREE catalog of all limited edition wildlife prints by wildlife artist Randy McGovern!
Waterfowl Prints | Wildlife Art Prints | Deer Prints | Bird Prints | Dog Prints | Cat Prints
Horse Prints | Nautical Art |Landscapes | Freshwater Fish Prints | Saltwater Fish Prints

Wildlife Artist Randy McGovern
5482 Brookstone Drive
Acworth, Georgia 30101
Phone: 770-424-0450
Fax Line: 770-425-5622 · Store Hours: 9AM - 9PM
E-mail: randy@mcgovernwildlife.com




Design created by: Award Winning Web Site Designs


Home | Contact Us | Artist Biography | Gallery | Framing | Calendar | Art Licensing | Links
All Content Copyright © 1983-2015 by McGovern Wildlife Art Collection. All Rights Reserved.