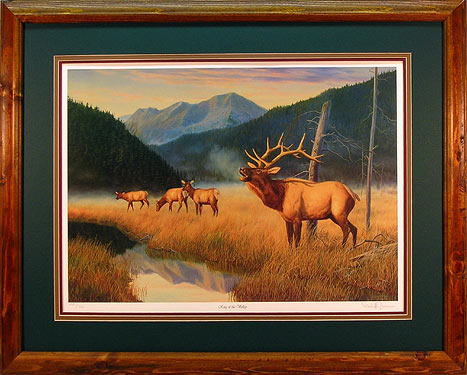 "King of the Valley" - Deer Prints
by Wildlife Artist Randy McGovern
This bull elk sure has a way with the lady elk.
Perfect for displaying in your office, hunting cabin or anywhere in your home!
1500 Signed & Numbered Prints
Image Size: 15" x 21"
Frame Size: 25 1/2" x 31 1/2"
This print contains 8 hidden wildlife animals in the background!
Item Description

Price

Order

"King of the Valley" - Elk - Signed & Numbered Edition Print - Unframed
$85.00
"King of the Valley" - Elk - Signed & Numbered Edition Print - Framed
$189.00






Please Allow 1-2 Weeks For Delivery.
(Please call if you may need it sooner!)
We can ship framed print orders same day - no extra charge!
Additional shipping charge for any order out of the USA is required.
To avoid overseas shipping delay, please contact us before ordering.

Call for a free catalog of all wildlife art prints by fish and wildlife artist Randy McGovern.
Order NOW! This Limited Edition could be Sold Out at ANY time!
Design created by: Award Winning Web Site Designs


| Home | Contact Us | Artist Biography | Gallery | Framing | Calendar | Art Licensing | Links
All Content Copyright © 1983-2022 by McGovern Wildlife Art Collection. All Rights Reserved.