Limited edition dog art prints by
Wildlife Artist Randy McGovern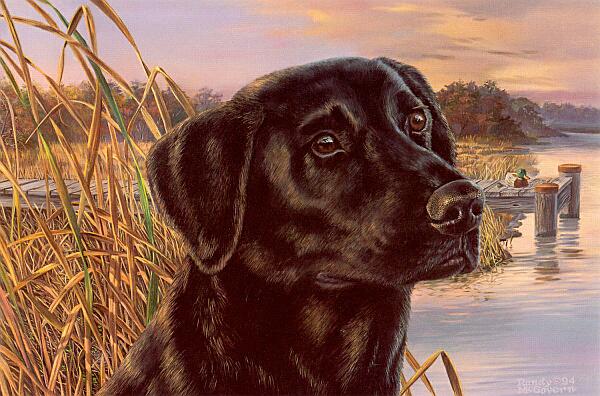 "Living on the Edge" - Black Lab by wildlife artist Randy McGovern
(In Black Lab print image above, 1 of the 5 hidden animals is the reflection of the flying duck in the dog's eye!)
The last time I went quail hunting, I did more shooting with a camera than with the gun. I love capturing labs and pointers when they are intent on pleasing their master. They also make great subjects when they are at play because they live to play!

Of all the animals that God created, I love dogs the best, because you can feel them loving you back in a tangible way. Not even a chimpanzee can do that. Dogs are just dumb enough to ignore your faults, but smart enough to know how to please you.
For an oil portrait of your pet or loved one visit Randy's Portrait Site
Original Oil Painting Portraits by Artist Randy McGovern

Limited edition fish prints by artist Randy McGovern

Call for FREE catalog of limited edition wildlife art prints by wildlife artist Randy McGovern!
Waterfowl Prints | Wildlife Art Prints | Deer Prints | Bird Prints | Dog Prints | Cat Prints
Horse Prints | Nautical Art | Landscapes | Freshwater Fish Prints | Saltwater Fish Prints

|

|

|

|

Design by: Award Winning Web Site Designs


| Home | Contact Us | Artist Biography | Gallery | Framing | Calendar | Art Licensing | Links
All Content Copyright © 1983-2022 by McGovern Wildlife Art Collection. All Rights Reserved.